Friday, July 11, 2008
I'm Still Here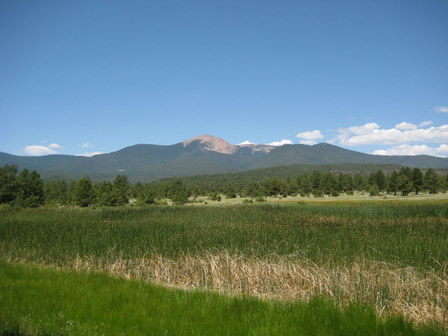 Baldy Mountain from on top of Wilson Mesa
I'm still here at Philmont, despite not having time to write anything new. I've taken out two LDS crews since I wrote last so I've been somewhat busy. The first one was in south country and we spent two nights at Rayado River camp and then went on to Carson Meadows, Fish Camp, and Crater Lake over Trail Peak. It was fun and the guys got along real well with each other. We got off for the Fourth of July and so we went into Taos and watched fireworks at Eagle Nest. That was fun since I hadn't been off on the Fourth of July for the past two years.
Last week I took out another mountain trek, this time in north country. I was really glad to get into north country since I've been stuck in south country all summer. We pushed them to their limit and made it up Baldy with daypacks out of Baldy Town. The crew had a wide range of maturity levels and was probably one of my more challenging crews. I think they got a lot out of it, even if they were exhausted at the end of it.
Now I've got two days off before my next mountain trek next week. It should be a regular one like the first one I had. Should be fun, but I really need these two days off. I think I'm just going to relax around base camp today and maybe hike up Little Costilla tomorrow. I've only been up there once and the view was amazing, so I'm really looking forward to doing it again sometime. This is the busiest time of the summer, but once we get through it, the summer will be almost over. We've been getting some rain and the fire threat has been reduced from extreme to high. Hopefully before long we'll be able to have fires again in the backcountry. Till then...
- Drew