About Me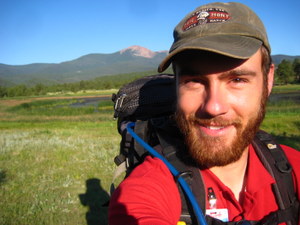 Hello! My name is Drew Buck and I am a Ranger Trainer this summer at Philmont Scout Ranch. I've been coming to Philmont every summer since 2003 and have loved every minute of it. It has become a home away from home where I can explore the outdoors and share my experiences with other scouts and venturers.
In 2003, my home Venture Crew 395 from Kansas City, Missouri went on a short trek to Philmont. I documented the trek with a video camera and created a DVD recounting our journey. In 2004, we went back for a full trek and I brought the video camera one more time. This time I turned our experience into an epic movie adventure. In 2005 I returned to Philmont for a Rayado trek where I spent three weeks roaming the backcountry with nine scouts I had never met before. This single experience convinced me once and for all that I wanted to work out here.
In 2006, I was accepted to work for the summer as a Philmont Ranger. It was an amazing three months and I knew I would come back the next year. In 2007, I came back as a second year ranger and got a Rayado trek of my own for the first half of the summer. I worked as a Mountain Trek Ranger in 2008 taking out crews from PTC for a week at a time. I decided to come back for one more summer as an RT and I'm sure it will be just as awesome as ever.
When I worked as a ranger in 2007, I started the tradition of posting my adventures on the internet. That first site had pictures, videos, and panoramas from all over Philmont. In 2008, I wrote some code to allow for an interactive map. With the latest version, I've tried to take the best of both previous years and add a new interface. The site has evolved every year and I plan to keep it going for at least one more summer.
I've spent the past five years at the University of Missouri in Columbia, Missouri earning a Bachlor's Degree in Electrical and Computer Engineering. I've also earned minors in Mathematics, Computer Science, Information Technology, and Music. I play the trombone in many university ensembles including Marching Mizzou in the fall. Studying keeps me busy and the entire year all I can think is, "I Wanna Go Back To Philmont!"
- Drew